Print Friendly

With the Ilkeston station opening, I'm relieved to be able to look forward to passing trade for my small business – The Junction Cafe – situated next to the station's west car park.
In celebration of the renewed hope in the station, I've bought a new sign for the cafe and dumped the old one. I've also begun repainting the picket fence outside!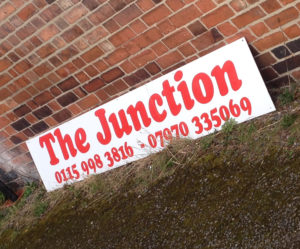 Me and my husband Andy opened the cafe 2nd June 2014, after purchasing it from the previous owners. It had been closed for four and half years prior to that.
Elaine and Alan Johnson ran the business as a cafe and bakery from 1967 – 1987. Elaine sadly passed away in June 2015.
The constant delays and financial issues surrounding the station had a devastating impact on my business. If it were not for loyal regular customers I probably would have had to shut down.
Listen on Soundcloud
Now that the station is built, I am satisfied that the April 2nd opening date is the real, final date of the Ilkeston train services running for the first time. It's been a bloody joke up till now.
With it being a Sunday I would normally be closed but since it's a special day I'll be open from 9am till 2pm or 3pm. 
You can look at the Junction Cafe menu here.
We use all fresh, locally sourced produce, and we have decent brands of coffee. I don't use any of the cheap catering rubbish. A fresh ground local coffee company is going to be installing a coffee machine very soon.
Inside the cafe, we have lots of old photos and memorabilia that has been donated. I'm trying to make it as attractive as possible to those with time to kill before their train arrives or for those that have just gotten off at Ilkeston and need refreshment.
I'm not happy about the Galliford Try workmen who ruined my furniture. They had offered to pay for it since it was filthy but we had an argument and we haven't spoken since.
I'm considering having a copy of the timetable printed, laminated and fastened to the wall, to save people walking to and from the platform. What would have been good is an electronic timetable display inside or outside the cafe, linked to the National Rail database. Unfortunately, this wasn't possible.
You can get to the cafe via the station footbridge, which means you can park in the East or West car park and make your way to the cafe under Coronation Road. There's no need to cross the busy road.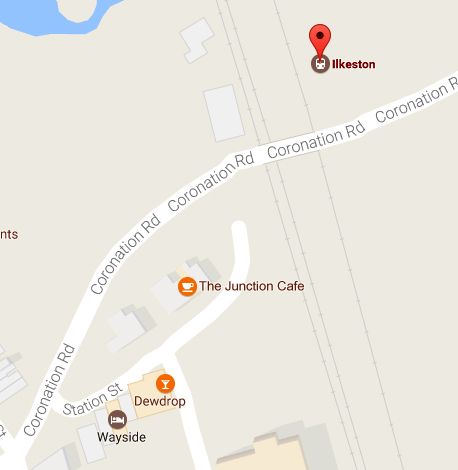 .
It should be said however, there will be a paid parking meter in the East car park. If you're thinking of parking at Riverside Retail Park, they also have a paid meter.
Please don't try to park on Station Street as those spaces are limited to residents only. The nearest place you could park your car for free at the weekend is the Ropewalk Industrial Estate, but that's just me guessing it would be alright to do that.
So, back to painting my fence. I've finished the primer coat and I'm about to apply the top coat.
The other thing that needs painting are the parking lines on the road outside the cafe. The council were supposed to come and extend the area for residential parking, at least as far along as my picket fence. This is something my local Councillor is looking into. I'm still waiting!
I hope Ilkeston can raise a glass of something together on Sunday April 2nd. I'll be raising a mug of tea or coffee, as well as my hopes.