Print Friendly

East Midlands Trains is to become East Midlands Railway as operator Stagecoach gives way to Dutch outfit Abellio who promise to invest in services, introduce better trains and make all-round improvements at stations.
The new East Midlands franchise will be renamed East Midlands Railway and run from 18th August 2019 until 22nd August 2027. 
Train cars will be rebranded in purple with a white "EMR" logo.
Franchise bid: Stagecoach disqualified, Abellio handed contract
In March 2017, the DfT announced Stagecoach, Arriva, and a joint venture between FirstGroup and Trenitalia had been shortlisted to bid for the next East Midlands trains franchise.
The contract was controversially awarded to Dutch company Abellio, who had been added to the shortlist in February 2018, and by April 2019, was the only bidder.
Stagecoach had been disqualified in the tender for the contract as well as Arriva, owned by Germany's Deutsche Bahn, over a pensions underwriting dispute.
The other bidder, the partnership between First Group and Trenitalia, withdrew to focus on another rail franchise leaving Abellio unchallenged. 
Stagecoach, which has operated East Midlands Trains since 2007, took legal action against the DfT in May 2019 over the pensions-related row following the government's claim that the bid was "non-compliant".
Furious Arriva joined the fight, though their future is uncertain due to debts of £17.8bn.
In a statement on 2 May, Stagecoach said the UK's Pensions Regulator estimated that Railpen had a £7.5bn shortfall and was "seeking significant additional contributions to the scheme which are as yet unquantified".
The responsibility for underwriting pensions is still in dispute.
Who is Abellio?
Abellio Transport Holdings Ltd was founded as NedRailways in 2001, before being renamed in 2009. It is owned by the Netherlands' national passenger train operator Nederlandse Spoorwegen (NS).
They operate public transport services in Europe, with both bus and rail networks, including the current Scottish Rail franchise.
Will train services be better or worse than Stagecoach?
In 2018 the Scottish government looked poised to end the ScotRail franchise by terminating Abellio as the operator following complaints of late trains and overcrowded carriages. After remedial targets were issued in February 2019 it seemed standards did rise and Abellio will continue as the operator.
However, East Midlands Trains, operated by Stagecoach, has been accused of incompetence and poor safety assessments. Angry passengers took to Twitter to vent after a normally unused line was allowed to route a train from London to Nottingham following landslides and obstructions to the regular track.
Passengers stranded for hours were eventually evacuated following a series of blunders and a failure to heed national weather warnings.
Whether Abellio will be any better remains to be seen.
As the only bidder for the East Midlands franchise, it seems the absence of competition could result in a much poorer experience for the paying customer.
East Midlands Rail improvements planned
Abellio announced they'll be investing £600m to improve services across the network, including longer trains with 18,000 additional peak seats into London St Pancras, 5000 into Lincoln and 3200 into Nottingham by December 2021.
Department for Transport explain how your line will change.
DfT and Abellio said other station, timetable and ticketing improvements will include:
'Flexipass' tickets for regular passengers travelling less than five days week
Improved refunding and compensation repayments for cancellations and delays
Free wi-fi and 'high quality' mobile connectivity
An 80% increase in the number of morning peak seats into Nottingham, Lincoln and London St Pancras
A 'high quality' electric express service between London, Luton and Corby from December 2020
More trains on Sundays
Earlier and later services
A stations improvement fund of £16·8m, including £6·9m for accessibility improvements
£9·4m for commercial and customer service improvements at stations
£1·5m for Customer & Communities Investment schemes to deliver non-commercial enhancements at stations, such as improving seating, luggage, toilet and car park facilities
916 extra car parking spaces and 1050 cycle spaces
Doubling of funding for Community Rail schemes, and creating up to four new Community Rail Partnerships
Zero-carbon pilot schemes at six stations
Two trains per hour calling at both Luton and Luton Airport Parkway from December 2020, offering better connectivity with stations further north
It's not clear how much of the above will benefit Ilkeston station but if you have any knowledge on the subject please leave a comment or submit an article.
Ilkeston is an unmanned station and complaints include that the ticket machine is often out of order and that the platform is simply not long enough. 
According to reports, many trains are late or cancelled, which could easily be the case under any operator, not just East Midlands Trains.
The lights over the footbridge went unrepaired for months throughout late 2018 and early 2019 despite numerous requests that they are repaired.
@networkrail @EMTrains @Derbyshirecc can we please sort out the lights on the footbridge at #ilkeston station please? They haven't been working for about 3 months or been repaired despite numerous requests. pic.twitter.com/ENXAsJ3Qj2

— Cllr James Dawson (@CllrJamesDawson) December 7, 2018
New intercity fleet for East Midlands Railway
East Midlands Railway will inherit a fleet of Class 43, Class 153, Class 156, Class 158, and Class 222 from East Midlands Trains.
The class 222 Meridian diesel-electric Bombardier trains and the class 43 high-speed diesel locomotives built by British Rail Engineering make up the existing intercity fleet, due to be replaced by brand new bi-mode trains.
Class 360 electric trains from Transport for London will join the fleet, as will class 170 Turbostars reportedly sourced from Greater Anglia and West Midlands trains to replace the 153's and 156's.
Abellio will also trial hydrogen fuel cell trains on the Midland Main Line.
East Midlands Trains livery to be overhauled with all new branding
The current East Midlands Trains brand was designed by West Bridgford graphic design agency m360, using a primary colour palette of bright and bold, and a secondary palette of subtle pastels.
The typeface uses uppercase Futura BT in bold and regular styles.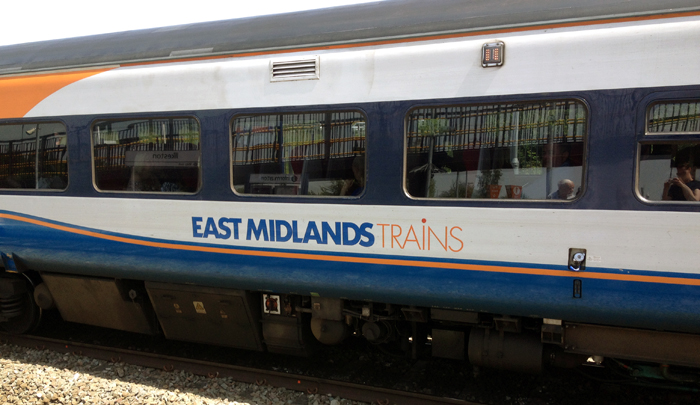 The new identity for EMR will launch 18th August, using purple carriages and light-coloured doors.
The brand will be divided into three types of EMR service. Each of these sub-brands will feature slight variations in the colour scheme, specifically, the doors of the carriages in what appears to be light yellow, white and mint green.
EMR InterCity – services on the Midland Mainline linking cities and towns such as Leicester, Loughborough Sheffield and Nottingham to London
EMR Regional – serving longer distance east-west routes
EMR Electrics – electric train services that will run twice hourly between London St Pancras and Luton Airport Parkway and Corby.
The new typeface (possibly Gill Sans), decked in white with a lavender shadow effect, has a distinct rail heritage look.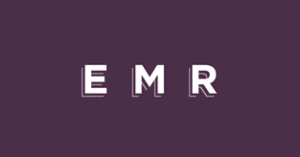 Meanwhile, the Midland Mainline is being upgraded 
Listen to the audio below of Ilkeston station users chatting about the new services while sitting under the shade of the platform shelters on Saturday June 29th's scorching heatwave.