Print Friendly
Member of Parliament for Erewash Jessica Lee welcomed Peter Hemmett, Editor of the Ilkeston Advertiser to Westminster yesterday (Thursday 19th April 2012) where they handed the Advertiser's "Get Ilkeston Back on Track" petition into Number 10 Downing Street.
The petition, organised by the Ilkeston Advertiser, contains 1,564 signatures calling on the Government to reopen a railway station in Ilkeston.
It marks the latest step in Miss Lee's long running campaign to re-establish a station in the town after a gap of more than 45 years. Ms Lee and Mr Hemmett had previously made one final push for signatures for the petition on Saturday (14th April 2012) in Ilkeston market place.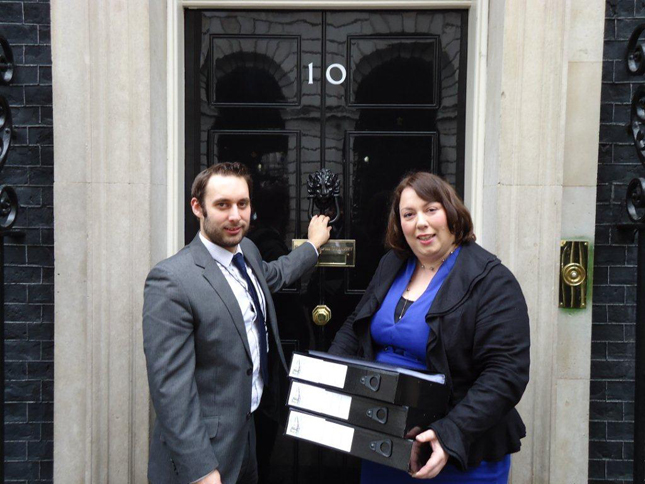 Immediately after the Downing Street presentation at 2:30pm, Ms Lee returned to Parliament where she spoke in the Westminster Hall Debate on Regeneration. In her speech Ms Lee highlighted how infrastructure and in particular a new train station would be a integral to the successful regeneration of Ilkeston as a town. 
"Thank you very much, Mr Howarth, for calling me to speak. It is a pleasure to serve under your chairmanship this afternoon.
I apologise to all present for my late arrival for this debate. It was not without sending a note to the Chairman in advance to explain, and indeed the reason I was detained is entirely material to the speech that I will now make.

I was on the way to Downing Street for an appointment at 2.30 pm to hand in a petition. It is a petition prepared by my local newspaper, the Ilkeston Advertiser, which has been running a campaign to reopen the train station in Ilkeston, one of the two towns in my constituency of Erewash. This is a long-running campaign by the newspaper; indeed, it has been a community campaign for many years. The reason it is relevant to this debate is that we have already heard about a number of different aspects of regeneration, but for me infrastructure is at the heart of regeneration and it is a key element of what we are trying to achieve around the country when we consider regeneration.

I will expand on that point about infrastructure and say why it is relevant to my constituency of Erewash. Ilkeston is now the largest town in the country without a train station and, as I have already said, it is one of the two towns in the constituency of Erewash.

The lack of a train station in the town brings difficulties because it deprives people in my area, particularly young people, of the mobility to go out and seek extra training and new jobs. They could get to both Nottingham and Derby much more quickly if they had the mobility that a train service offers. Of course, a train service would also bring visitors, shoppers and new businesses into the town and, in my view, the resulting opportunities would be endless. Derbyshire county council, which is doing a great deal to try and press for this project, says that there would be 150,000 extra journeys if the project were successful, which would bring massive economic benefits to Ilkeston and indeed beyond.

So I have started my speech by referring to what I regard as a key component of the whole concept of regeneration, which is mobility for people, and that mobility is achieved through infrastructure.
In many other ways, my constituency is quite blessed in terms of infrastructure. The M1 motorway runs right through the heart of my constituency and, as I have explained, we are near to both Nottingham and Derby, and we are also near to Sheffield. However, in terms of social mobility and particularly for young people, train travel is extremely important, and local rail services—along with longer term and larger infrastructure projects such as High Speed 2—are key in achieving that social mobility. I will certainly continue to do all that I can to campaign for the train station in Ilkeston to reopen. I can tell all right hon. and hon. Members in Westminster Hall today that our campaign group has been lucky enough to have had a meeting with the Secretary of State for Transport on this matter, and we are waiting for a response from her. I look forward to receiving her response and I know that our campaign has backing from across the community in Erewash."
Commenting further after the debate Miss Lee added:
"We in Ilkeston no longer want to be known as the largest town in the country without a train station and the fantastic response from local resident to this petition is testament to that. This campaign goes beyond political affiliation; it is first and foremost about doing what is right for the people of Ilkeston. I believe a new station is key to the regeneration of the town, bring us massive social and economic benefits and can assure the people of Ilkeston that I will continue to work hard to make the proposed station a reality. I would like thank Peter and The Ilkeston Advertiser for their continued support for the Ilkeston Train Station Campaign."
Source: Ilkeston Advertiser